flash screensavers | savers from your flash files | examples | screensavers from PowerPoint
We specialise in building custom Flash based screensavers for the Win95/98/ME/NT platforms. Each screensaver comes with its own installer, a 10,000 user licence, a link to your website, direct e-mail link and interactivity if required. To create a consistent corporate image, get accross your message or just as a bit of fun/freebie on your site a screensaver may well be the answer The savers are accessed, previewed and password protected using the normal windows dialogue. Cost is obviously subject to the complexity of the animation - please contact us to discuss your requirements.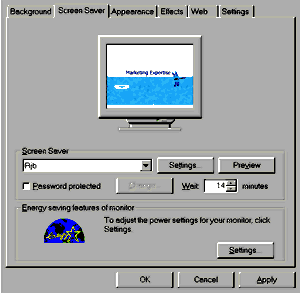 The settings box will be unique to your saver and can be any size or shape you require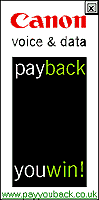 If you want to see how all of this works then please download this simple example: Canon Payback scheme download (598k)
screensavers from your flash files
Alternatively we can turn your own flash (or LiveMotion) creation into a screensaver for only £60
By sending us the items we need, we can build your screen saver efficiently and cheaply. We will create a fully featured screen saver from your projector file with a set-up box matching your own custom design and shape. All this will then be packaged up in an install file ready for distribution on CD-ROM, floppy disk or the internet.
All we need from you is...
A flash projector file - size doesn't matter but be under 800Kb for the compiled screensaver to fit on one floppy.

A graphic for the set-up box - This should be less that 640 x 480 pixels but be able to fit in the web and e-mail links you specify.

Icon - 32 x 32 and of 16 or 256 colours*

Any additional SWFs that are loaded up using the LOAD MOVIE command.

A midi file - This is optional but if included, will be able to play along while the screen saver is on.

A readme file - Again, optional.

The following details:

The company name

Web address (optional) (appears in set-up box)

E-mail address (optional) (appears in set-up box)

Long name of the screen saver (appears in dialog boxes) Short name of screen saver (appears in dialog boxes)

Program Group (for storing the readme - again optional)

Screen saver name (appears in display properties)

* if you need us to create the icon file for you just include a suitable graphic and we'll do the rest (for an extra £10...)

Notes:

If in doubt then contact us with any questions

If you build user interaction into your saver you'll need to include a quit button (the normal quit screensaver on keypress/mouseaction will be obviously be disabled in this mode)

If your movie is not built to the normal 4:3 screen ratio (and just to be safe even if it is) choose a movie background colour of either black or something to complement your design. Any screen edges not covered by the saver will appear in this colour

The shape of the setup box is simply determined by making a colour transparent - please bear this in mind when designing this graphic

As a courtesy we always include the option for the user to switch off any sounds you've included - however we will remove this option if requested...
Download an example screensaver from a client's supplied projector file Anite Travel Systems (854k) this example was actually created using Adobe LiveMotion rather than Macromedia Flash - if you can output a .swf file then we can make a screensaver from it!
example screensaver animations