Templates | Animation | Multimedia | Scanning Tips | Presentation Tips | Embedding Flash | Screensavers
We can convert Microsoft Powerpoint files into 'standard' Windows screensavers - compatible with Win95, 98, ME, 2000 & NT. In much the same way as the flash examples we can include custom graphics for the settings and preview screens and include an active e-mail and web link from the settings option.
This is a 'relatively' simple and inexpensive process but please bear in mind a few limitations.
Once Powerpoint is converted to a screensaver it still does not accept the normal 'mouse detect' instructions and therefore the only way to quit the saver once it's enabled is to press the escape key or click on a quit button

Therefore an Exit button should be added to each screen and assigned a 'quit show' action

In order to operate there needs to be a version of the powerpoint viewer installed in the right place

Slide timing and show looping need to be configured in advance

Fonts must either be embedded (not always possible and often flaky) or already resident on the recipient's machine

If the viewer is included in the screensaver install programme - as it really must be - the resultant file size makes it a rather unfriendly download (although this isn't such an issue for Intranet/network/CD distribution). The final installer file is never far short of 4Mb.
However this still means that it's possible to take virtually any powerpoint file (including those with linked media - video/sound/animation), test it as a self running show with the timings and quit button of your choice and then build it into a single executable file that with just a double click will be installed as the default screensaver with the powerpoint viewer configured in the right place and with your logo and e-mail link in the normal windows screensaver dialogue box. These screensavers can be password protected in the normal way.
Click here if you'd like to download an example (PowerpointScreenSaver.exe 3.58Mb) - select 'save to disk' and then double click on the file to install once it's downloaded.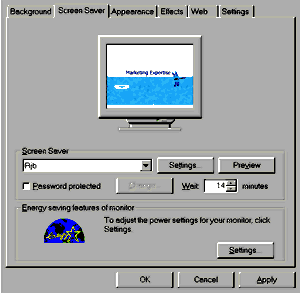 Cost?
You've produced a powerpoint file that self runs, has a button on every frame that will quit the show and can supply a couple of graphics for the preview and settings dialogues along with one url and one e-mail address (if required) .We'll build your screensaver for £100 and supply it to you on CD as a single install file.
We've already designed your template or built your presentation and you want it (or a key section) as a screensaver. We'll sort out all the buttons and graphics and for £100 and supply it to you on CD as a single install file.
You've got a presentation but need us to take care of the extra stuff then you'll need to add around £50 - we'll give you a firm cost once we've seen the presentation and know how much work is involved.
You know what you want but need it designed and built from scratch. Contact us with your requirements and we'll give you a firm quotation
Note: all prices exclude VAT @ 17.5%