powerpoint and multimedia
Templates | Animation | Multimedia | Scanning Tips | Presentation Tips | Embedding Flash | Screensavers
PowerPoint may come with a bunch of templates and some backgrounds but if you throw all that away and simply use it as an engine to display your graphics (whilst keeping those familiar editing tools for the text etc.) it's actually capable of some pretty stunning results.
We can include suitably encoded video, sound (either as feedback, voiceover or music bed), flash animations, hyperlinks and photos all across a background perfectly suited to your requirements
We can encode video from any standard or format (VHS, PAL, NTSC, Beta, DigiBeta etc. etc.) into a variety of digital formats - AVI, QuickTime, MPEG1 and MPEG2 are the most common.
The choice of encoding depends on the quality of the source material, the capability and OS of the playback machine and the size of image required.
As a rough rule of thumb:
AVI - will run on virtually any Windows machine with no additional software (data rate and frame size can be chosen to allow playback direct from CD). This is not really an option if you require full screen video
QuickTime - generally requires the installation of the (free) application on a PC, most predictable for Mac.
MPEG1 - currently supported by most modern 'multimedia' PCs, capable of running at full screen. This is now the most common format for adding digital video into PowerPoint
MPEG2 - DVD standard, excellent quality, great full screen capability - does require a DVD codec to be installed and demands some serious hardware. Currently not suitable for distribution but for a conference where you've got control of the playback machine this is the standard to choose...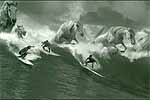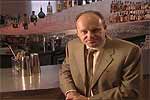 All you need to do to run MPEG2 is make sure you've got a suitable codec installed (if your machine has an operational DVD player then you've already got one). We use Cyberlink's PowerDVD very successfully and it's readily available from all the normal software outlets. Then you need your good quality video suitably encoded (ideally from digi beta - if you've only got a VHS then stick to MPEG1 because you won't gain anything much) which generally means using a specialist bureau such as ourselves. All that's required to get it all to work is to simply insert a movie in the normal way..
Note: When we've installed a DVD player on Windows 2000 machines it gives an error message and the player application does not function. However the codec elements are actually installed correctly and both media player and PowerPoint are completely happy with MPEG2 playback!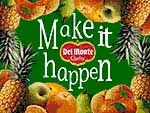 Here's a flash animation that worked as the opening sting for a recent Del Monte conference and was embedded into their Powerpoint presentation.
additional services:
Bespoke animation - including embedded flash or animated gif images
Custom clipart design
Convert your logo into a true type font
Slide imaging
Full conference AV production & support
Advice on presenting & projection
Converting a powerpoint file into a screensaver